Microscope Bulbs
Microscope servicing, sales and repairs.
We stock an extensive range of standard and specialist bulbs for most types and makes of light microscopes.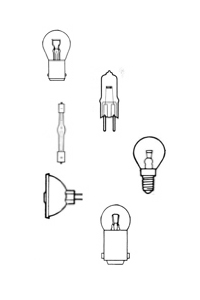 Standard 2-pin halogen capsule — for many modern microscopes
Halogen reflector — for fibre optic & stereo base illuminators
HBO Short arc lamps — for fluorescence illuminators
Low voltage tungsten — for older high & low power microscopes
Mains tungsten — for basic older high & low power microscopes
Special — unusual pre-centred bulbs for specific microscopes
With over 30 years experience in this field, we can usually supply even the most obscure bulb for an older microscope, so please let us have all the details (markings & description etc) of the bulb you need and we will endeavour to help. If a bulb has no markings a digital photo attached to an email can be useful, or post a faulty bulb to us for identification.
Contact us for a quotation or more information about the products and services we offer.